Commercial Leasing In Gurgaon
Prithvi Estates is one of the oldest commercial leasing companies in Gurgaon. With Corporate Leasing being our forte since the inception of the firm in 1995, we have a vast experience, which is needed in this organized sector.
We offer Plug and Play office spaces on lease, Corporate Office Spaces for Rent, Industrial and Warehousing solutions- with thorough assistance in the search and acquisition of spaces as per the client's requirements.
As a commercial leasing agency, we provide end-to-end solutions to companies looking to relocate their offices; from selecting the ideal location, evaluating multiple spaces, providing fit-outs to closing in on the documentation and handing over of possession.
In most of the cases, the complete furnishing and interiors are executed by our investors, who are the present owners of these areas, based on the requirement of the tenant. We may also provide fit-outs based on amortization model which may be required in certain cases.
We have 5 in-house interior companies and vendors to choose from who suggest different plans based on the client's budget and requirements. The interior teams can suggest certain sample layout plans and 3D arrangements for better understanding of the colour schemes, look and feel.
If you are looking for an office space in Gurgaon, office space for rent in Gurgaon, our team of experts can guide you all the way through. Some of our areas of specialization for commercial leasing/commercial renting are:
– Golf Course Road Gurgaon
– Golf Course Extension Road Gurgaon
– Sohna Road Gurgaon
– MG Road Gurgaon
– NH8 Gurgaon
– DLF Cyber City Gurgaon
– Udyog Vihar Gurgaon
Commercial Office Spaces in Gurgaon: Emaar Digital Greens, M3M Cosmopolitan, JMD Megapolis, Emaar Palm Springs Plaza, DLF Corporate Park, Unitech Signature Towers, Suncity Success Tower, Pioneer Urban Square, Time Tower, M3M Urbana, Magnum Towers, Good Earth Business Bay, Good Earth City Centre, Global Business Park, Baani The Address One, Global Foyer, Paras Downtown, Emaar Capital Towers, DLF Two Horizon Centre, Hines One Horizon Centre, DLF Cyber City, DLF Square, Vipul
Square, Vipul Plaza, JMD Empire Square, JMD Regent Square and many more.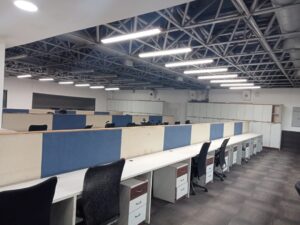 There has been an increase in demand for office spaces near metro stations in Delhi and Gurgaon. Golf Course Extension Road (Gurgaon) has been the major hub for a lot of big corporates who have high staff strengths mainly due to the close proximity to rapid metro on the Golf Course Road and the rentals being 30-40% less than other main localities. It is easier for such corporates
to take up big floor plates here since there are a lot of new buildings, which have good availability, and most of them are IT-enabled letting them work overnight which is not the case in other commercial buildings. This area has seen some good increase in rentals in the past couple of years due to the heavy demand and has been a hub for Commercial leasing companies in
Gurgaon, Corporate leasing agencies in Gurgaon, Commercial renting agencies in Gurgaon, Real estate agents Gurgaon, Realtors in Gurgaon, Commercial real estate agencies in Gurgaon, Real estate investment companies in Gurgaon.